Price list
Conditions & included services
Period
Price per person
Almchalet
Price per person
Chalet Mama Marie
Price per person
Chalet Felix ****
Price for 2 pers.
Chalet Felix **** pro pers.
Price per person
Ap. Dahoam
Price per person
Ap. Hofstübele
Price per person
Ap. Juche
Price for 2 pers./day
Camping pitch
02.12.2023 - 22.12.2023
67,00 €
56,00 €
100,00 €
115,00 €
45,00 €
55,00 €
50,00 €
23.12.2023 - 06.01.2024
76,00 €
67,00 €
135,00 €
160,00 €
58,00 €
62,00 €
The Holiday Pass: Let yourself go free in summer!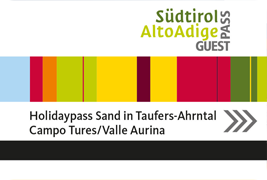 You can enjoy hiking, mountain biking and riding, why should you still drive your car? With the Holiday Pass, you will receive for free, you can confidently leave your car for the duration of your holiday at the Maurlechnof. The non-cash mobile card allows you to
use public transport, including the regional trains throughout South Tyrol
for free
. So you will save fuel costs, relieve incidentally the environment and are comfortable anywhere on the go. With the Holiday Pass you can get to know our beautiful Ahrn valley, reach the starting point of many tours, can take a bus to come back after a long bike ride or explore other Tyrolean regions and our cities.
The Ski Mobile card: Free to the ski area and throughout South Tyrol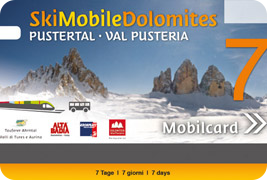 Leave your car at the Maurlechnhof during your winter holiday! As our guest you get free upon arrival the Ski Mobile Card, a privilege card which entitles you to use of all public transport in South Tyrol for free, including the regional trains. In this way you are relaxed and stress-free traveling to the ski resort.
And for the environment you are doing also something good by not driving your own car. If you want to visit the city of Bruneck or Brixen, you can go there for free using the Ski Mobile Card and do not need to worry about winter road conditions and fuel prices!
Prices and discounts
The prices apply for a minimum stay of 3 nights per apartment and night, with occupancy of minimum 2 persons.
For every additional person we charge:
Apartment Hofstübele: 17,00 € – 28,00 € / night
Apartment Dahoam: 18,00 € – 25,00 € / night
Apartment Juche: 18,00 € – 23,00 € / night
Chalet Mama Marie: 24,00 € – 30,00 € / night
Almchalet: 25,00 € – 34,00 € / night
Chalet Felix: 50,00 € – 57,00 € / night
The prices include: Bed linen, hand and bath towels, partly towel warmers, bathrobes*, hair dryer, fully equipped kitchen, partly with dishwasher, satellite TV, free WI-FI, electricity and heating, wood for the stove, sauna*, jacuzzi*, safe* and any fees and taxes.
* only in Chalet Felix
For our guests of the apartments / Chalet: "Hofstübele", "Dahoam", "Juche", "Almhütte", "Mama Marie", "Sportalm" is available a sauna in the Chalet Sportalm. Price on request!
The amount of local tax is calculated based on the municipal regulation at the time of the stay (October 2015:  1,20 € per day and person above 14 years of age).
Discounts for children
Kids up to 2,99 years stay with us free of charge.
Baby equipment is available free of charge upon request.
Pets
For your four-legged family members we charge 10,00 € per day (food is not included. In the Chalet "Mama Marie" pets are not allowed!
Please bring your own basket or blanket for your pet.
Booking
Please note: The booking becomes binding at a payment of a deposit for confirmation (booking guarantee) and the transmission of the booking confirmation.
Terms of payment
The mentioned prices are intended for a minimum stay of 7 days. For a shorter stay a surcharge of up to 30% can be charged on the price per day. In case of an earlier departure or later arrival we reserve the right to invoice 100% of the price per day.
Surcharge for final cleaning: 35,00 € or 80,00 €
Payment: Please pay cash on site. The cash limit in Italy amounts to 3,000 €. The following payment methods are accepted: non-transferable check, bank transfer, Credit card (Visa or MasterCard) or EC-Card.

Arrival and departure
Arrival: On arrival day, we expect you between 13.00 und 16.00 clock. For arrival outside these hours please send us a message by telephone, SMS or e-mail.
Departure: On departure day, please leave the apartments / chalet not later than 09.30 clock. If possible, upon agreement, you can enjoy your apartment till 17.00 o' clock against a surcharge of € 50,00.
Cancellation
Cancellation conditions according to Art. 1382 Civil Code
According to the Italian Consumer Protection Code, there is no right of withdrawal. However, we grant you the right to withdraw according to following cancellation conditions as defined in art. 1382 (Civil Code):
In case of cancellation the down-payment won't be refunded, but it will be considered for an eventual future stay in our house, for 3 months, otherwise we will reckon up the down-payment as service fee by departure.
To save costs, we recommend that you protect yourself and close a cancellation insurance.
Please inform us in advance if you are unable to take your holiday.
This is a required information according to EU-Regulation No. 524/2013 of the European Parliament and the Council. The platform for the on-line-resolution of disputes in consumer law (ODR) of the European Commission can be found here: ec.europa.eu/consumers/odr/
Cancellation insurance
We are looking forward to your visit!
However, we recommend that together with the booking of your stay you close a "Cancellation Insurance". This way, cancellation fees are covered and you can happily look forward to your vacation. Further information about costs and details of the "cancellation insurance" are available here: European Travel Insurance
Exclusion of  liability
We strive to provide accurate and complete information on this website. However, we assume no liability or guarantee for the topicality, correctness and completeness of the information provided. We reserve the right to make changes without notice or to amend the information. Only the specific service offer or the booking confirmation is binding. For external links we can – despite careful control – assume no liability. For the content of linked pages exclusively their operators are responsible.
Data protection
For the purposes of the GDPR, we inform you that your data will be used and saved exclusively for processing your application and will not be disclosed or distributed to third parties. Regarding data processing, you are entitled to all rights according to the GDPR. The holder of the rights is Richard Oberfrank – For more information about your rights, please visit here .
Please note
We specifically refer to the legal provisions Art. 45-67 of the Italian Consumer Protection Code 206/2005.